Blog Post Submitted by Shelmark Resident
The Kiss dress is the Twe12ve exclusive from Blasphemic. This is an awesome sleeveless form fitting mini dress that has an image of two people kissing. Each person is a different color tone. A nice touch is the thin zipper that runs down the middle of the front of the dress The dress is available in nine different colors (shown here) and is made for Belleza Freya/Isis/Venus, Maitreya and Slink Hourglass/Physique
Another Twe12ve exclusive is the Fleur de Lis Necklace from Indulge Temptation. This necklace starts out as a triple chain from which hangs small metal Fleur de Lis and a large metal dagger shaped piece with wings and three gems. The HUD included offers ten metal color options and eleven gem color options for two sets of gems.
The Let's Dance Nails is the exclusive from Dark Passions Koffin Nails for Genre which starts on November 15th. The nails have a shiny metallic Disco ball pattern and the applier hud gives nine different colors. There is an applier HUD for Maitreya, Omega and Slink. They can be purchased separately for 100L or 275L for the fatpack which includes all the applier HUDs.
What I am Wearing
Dress- The Kiss [Blasphemic @Twe12ve]
Necklace- Fleur de Lis [Indulge Temptation @Twe12ve]
Nails – Let's Dance [Dark Passion's Koffin Nails @Genre]

Blog Post Submitted by Shelmark
The Anastacia Outfit is the Twe12ve exclusive from MooLaLa for the November round. This is a full outfit that includes a sweater, leggings, heels, glasses and a head bow. The quarter sleeved plush sweater has a V neck and has the words "Live Life… Make Memories" stitched on it.
The HUD included gives ten color choices for the sweater. The sweater and the black leggings come together as once piece and are made for the five fitmesh sizes. Belleza, Maitreya and Slink Hourglass/Physique. The HUD also has color choices for the bow so it can be made to match the color of the sweater. The heels are black peeptoe with a bow over the toe and a thin high heel. They are made for Slink High Feet
The lovely jewelry set I have chosen to wear with the Anastacia Outfit is the Easy Peasy set from Indulge Temptations. This jewelry set is available at the Be Beauty event. It consists of a necklace, earrings and a ring for each finger The necklace starts out with a delicate chain from which four small jeweled rectangles hang and a longer jeweled rectangle in the middle. The earrings and ring is a large jeweled rectangle that matches the middle rectangle on the necklace. The HUD included gives color options for the metal and eleven color options for the jewels.
Livia makes such rich colored nails and the Harvest Nails, a hunt item for the Jerky Turkey hunt, is no exception. The applier HUD has the choice of two solid colors and four harvest patterns. There is an applier HUD for Maitreya, Omega and Slink.
What I'm Wearing
Nails – Harvest Nails [Livia] Sweater/Leggings/Heels/Glasses/Bow [MooLaLa @Twe12ve] Opens on November 12th
Easy Peasy Jewelry Set [Indulge Temptation @Be Beauty]
Sometimes I feel like people see right through me……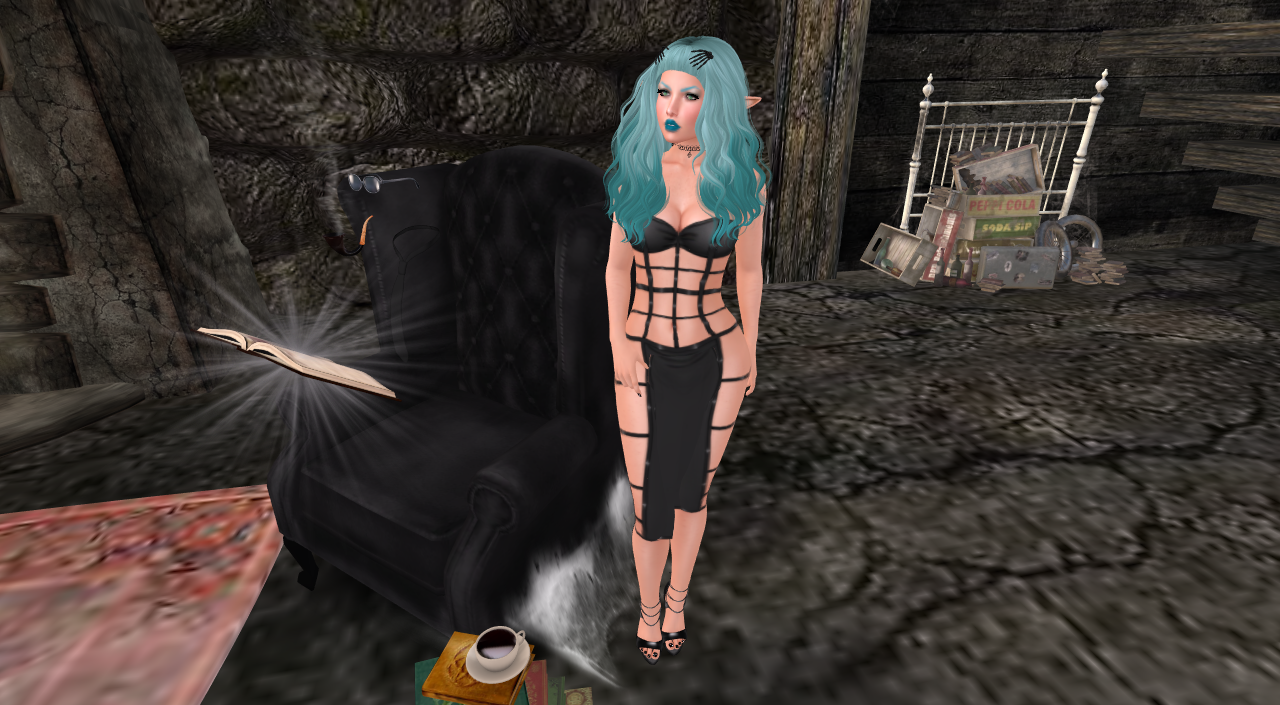 But not in this dress From Ghostyss!  This strappy dress is called Sylvie, and will make you the center of attention everywhere.  This strapless dress is applier plus a mesh skirt panel so it will make every mesh body look amazing.  It's available at Pretty Things Show Room
It also comes in a white version.
And the SHOES!!! They called Carrie and are part of the Spooktacular Hunt that is the brainchild of Swank Events & Stuff Style Showroom. Check out the Hunt Locations by going to STUFF and there it a teleporter to take you to Swank Events too.
Check out Ghostyss on the Marketplace
Facebook
Flickr
Details Details Details!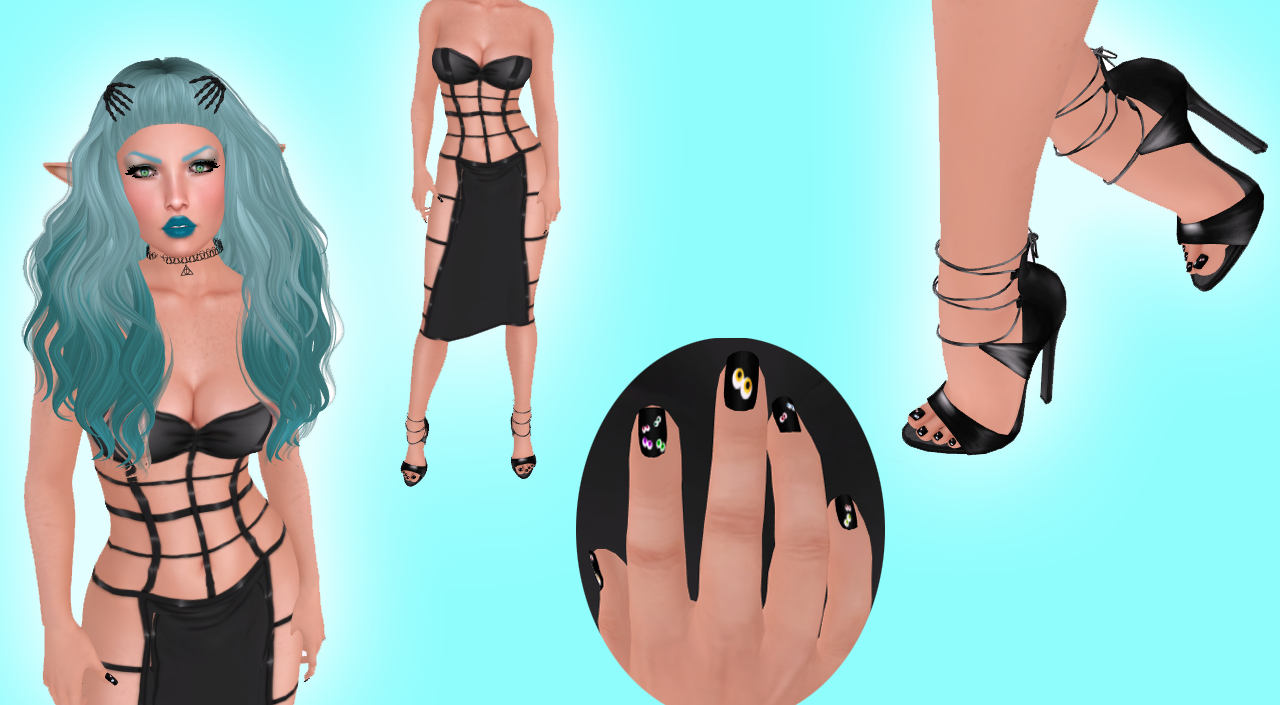 Head: Catwa Jessica
Ears: Mandala
Body: Maitreya Lara
Hands & Feet: Slink
Body Appliers: Paper Rabbit
Hair: Truth Clover with color change skelly hands
Choker: Reign
Nails: Hello Dave Peek a Boo!
Taken @ Kharma Asylum
Blog post submitted by Shelmark
I am hanging with the spiders because I have some great "Spidery" items to share with you from MooLaLa, Dark Passions Koffin Nails and Vengeful Threads
The Hooded Mini Dress from MooLaLa is a hunt item for the Boo! Bunny Hunt. This cute sleeveless dress has a spider web pattern on a black backround with an orange hoodie and straps in the front. It looks great with a pair of thigh high boots like the ones I am wearing from N-Core. This dress is made for the five standard mesh sizes, Maitreya and Slink Hourglass/Physique.
The Arachnophobia Nails is the Nightmare Event exclusive from Dark Passions Koffin Nails.  There are two different spiders to choose from each with a different background color (red, purple, orange, green and black).  I had fun with these nails and added one spider version in each color to one hand and the other spider version in each color on the other hand. There are applier HUDs for Maitreya, Omega, and Slink. Each applier HUD is sold separately for 100L or the Fatpack of all the HUDs is available for 275L.
One of the gacha's at the Mad Circus event is the "Along Came a Spider" nose ring gacha from Vengeful Threads. It is 25L a play to get either one of the six common colors of nose ring or one of the three rares. If you like spiders then this is the must-have accessory!
Nails – Arachnophobia [Dark Passions Koffin Nails @The Nightmare]
Dress – Hooded Mini Dress [MooLaLa for the Boo! Bunny Hunt]
Nose Ring – [Vengeful Threads @The Mad Circus]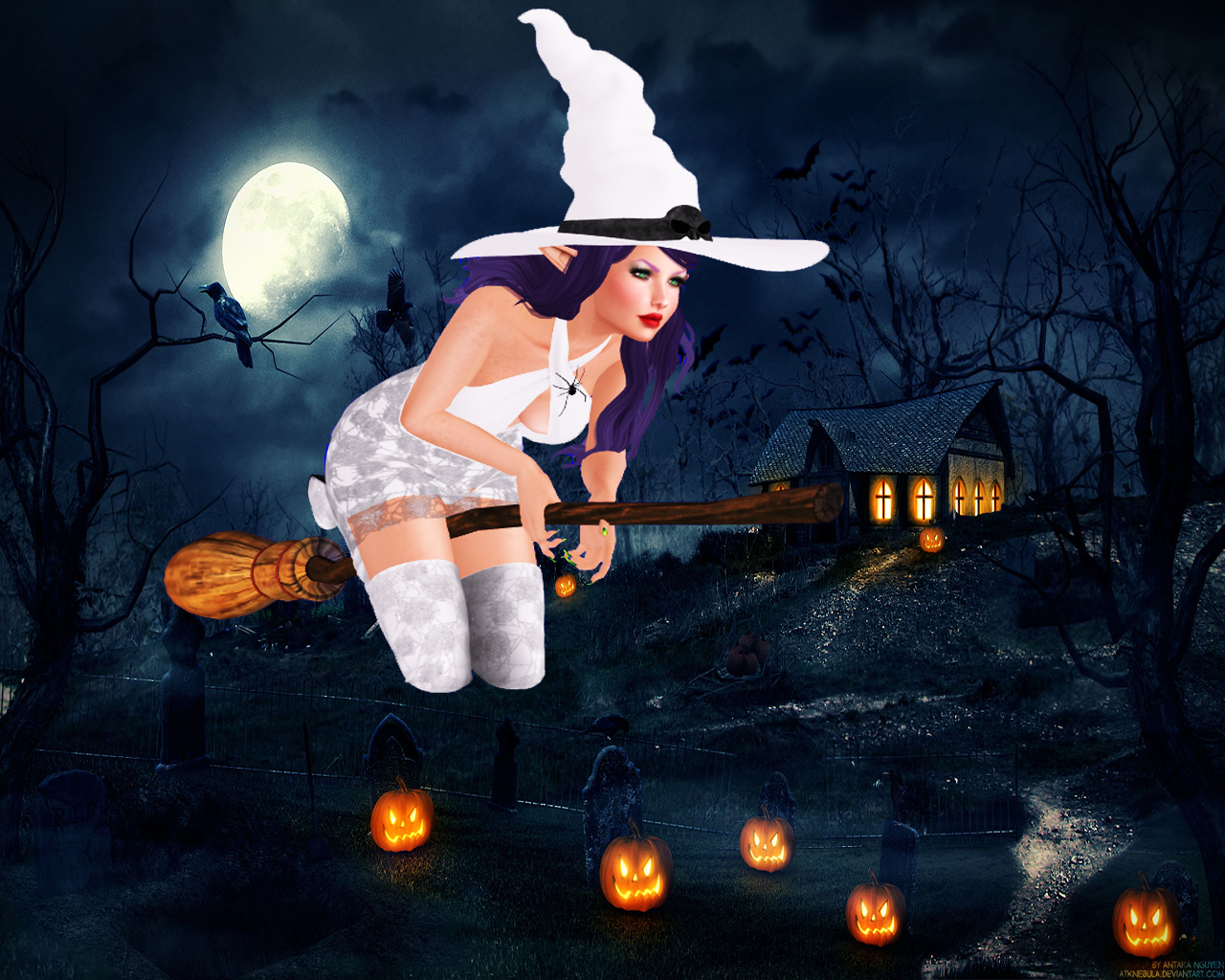 This hunt gift mesmerized me from the tip of my pointed hat to the toes of my spider webbed boots!
Such a wicked gifty. This hunt gift from Le Fashion Whore is part of the EnMeshed Hunt.
This is a complete set with so many options it's magical! 5 colors to mix and match for the boots, hat, spider brooch and dress. Two brooms, One flying animated with a cackle sound when you click it. The other to hold. And the hat also has two metal options to choose from for the skull trim!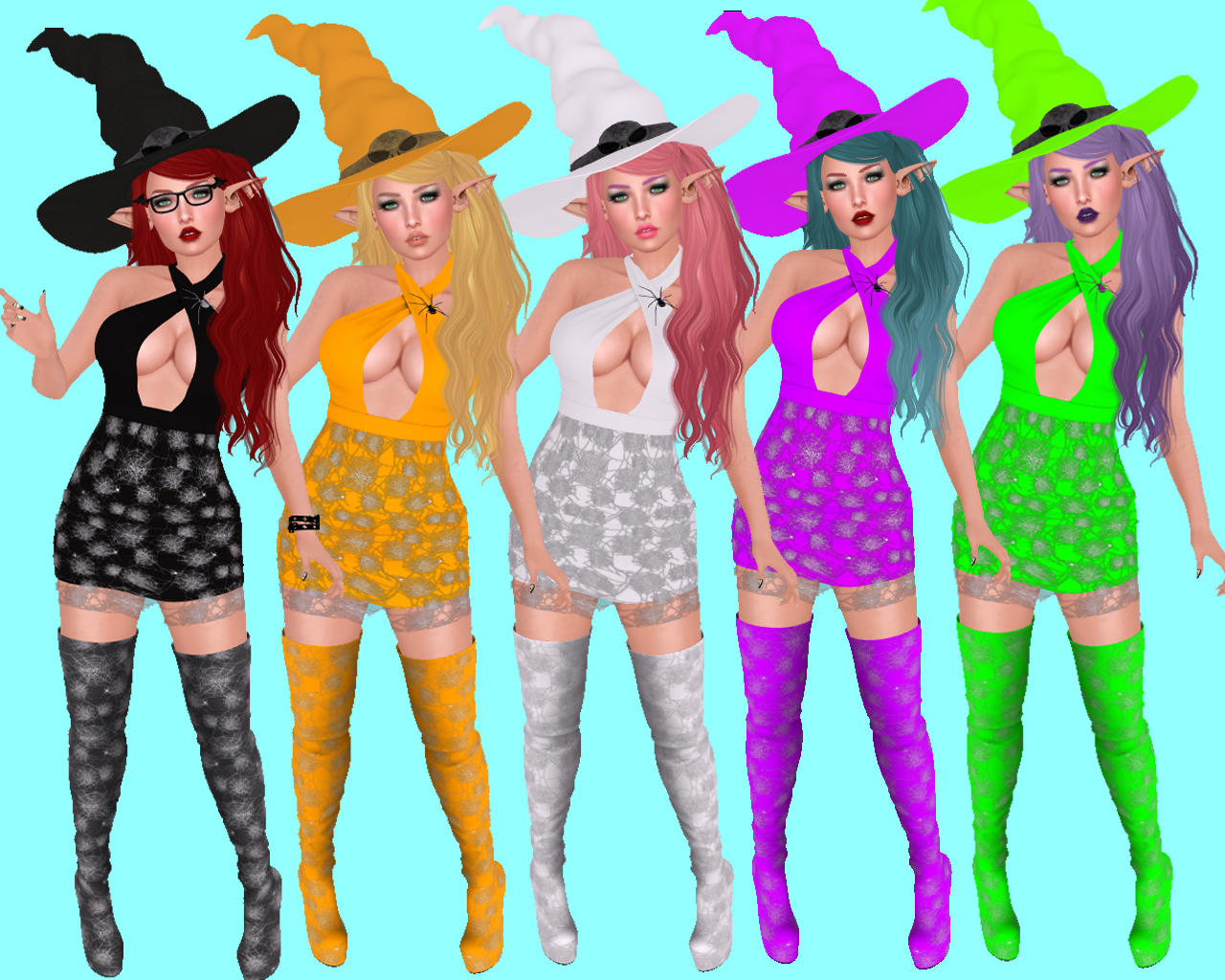 check out the HUD pictures in the details picture below! And RUN, or FLY to Le Fashion Whore and find this hunt gift!!!!!
<img src="http://www.nothing-to-wear-sl.com/wp-content/uploads/2016/10/Hud-Details.png" alt="hud-details" width="1280" height="1024" class="aligncenter size-full wp-image-3673"
Head: Catwa Jessica
Body, Hands & Feet: SLINK
All skin appliers: Paper Rabbit
Hair: Truth
Eyes: Purrettes
Glasses: FLF from +Half-Deer+